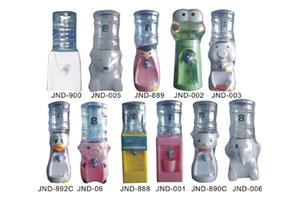 Descriptions of J&D Mini Water Dispenser
1. Lovely appearance: mini water dispensers with appearances of doggy, penguin and pig are all available.
2. Color: white, pink (Other colors for choice if order 2,100 pcs)
3. Volume: 8 glasses of water, which is exactly the water amount needed by one person in a day.
Features of J&D Mini Water Dispenser
1. Light weight and space saving for the small size of this drinking water equipment.
2. Easy press of water faucet.
3. Waterproof waterguard is equipped in our mini water dispensers, as a result, water bottles are easier to load and unload.
4. An ice tube can be added into the water bottle to cool drinking water.
5. The bottle cap features recycling use.
Applications of J&D Mini Water Dispenser
Mini water dispenser, for its compact size, can be used in bedroom, office, and kitchen and so on. For more related products, please directly contact with J&D, a China water dispenser supplier.
Example