Application of Isobaric Filling Machine for Carbonated Drink
Integrated the functions of bottle washer, bottle filler and bottle capper etc., this bottle filling machinery is suitable for filling all kinds of carbonated drink into PET or Glass bottles.
Besides beverage filling machinery, J&D also provides drinking water filling machine and oil filling machinery etc. to satisfy your different demands.
Features of Isobaric Filling Machine for Carbonated Drink
1. J&D carbonated drink machine features with scientific and reasonable design, beautiful appearance, complete function, convenient maintenance, and high automation.
2. Suitable for different types of bottles:
The bottle-neck clamping device and suspending bottle design enable a stable filling process and also help avoiding malfunctions caused by differences of thickness and height of the bottle.
3. Advanced technology from Germany and Italy is adopted:
(1) Isobaric filling technology enables a precise control of liquid amount and quick filling;
(2) Fully enclosed type of beverage-holding tank and CIP interface are equipped in our carbonated drink machine.
4. Swirl wind-power cap-managing device helps avoiding damaging the cap surface. And caps will be fed automatically when there is shortage of caps.
5. Magnetic torque cap screwing device enables a free adjusting of cap-screwing-power, as a result avoided damages to bottle caps.
6. Human-machine interface touch-screen is adopted in this filling equipment:
(1) The liquid level in the tank can be controlled automatically.
(2) The filling and capping will stop automatically when there is not bottle.
7. All parts that have direct contact with the beverages are made of high quality stainless steel.
8. And the main electrical components are from famous international companies.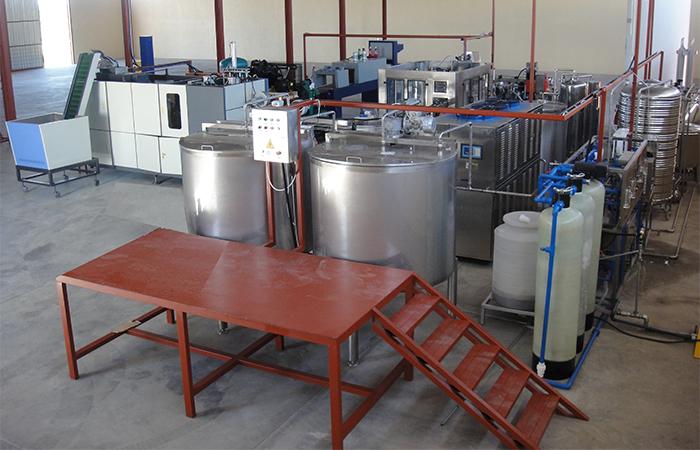 Complete carbonated drink production line
Technical parameters
| | |
| --- | --- |
| Model | JND 8-8-3D |
| Production Capacity (BPH) (500ml) | 1500-2000 |
| Filling Pressure (Mpa) | ≤0.4 |
| Applicable Bottle Type | (Bottle Diameter)Φ50-Φ100mm (Height)150-320mm (Volume)250-2000ml |
| Applicable Cap Shape | Plastic Screw Cap |
| Gas Source Pressure (Mpa) | 0.6 |
| Gas Consumption (m3/min) | 0.2 |
| Total Power (kw) | 4.0 |
| | |
| --- | --- |
| Model | JND 16-12-6D |
| Production Capacity (BPH) (500ml) | 3000-4000 |
| Filling Pressure (Mpa) | ≤0.4 |
| Applicable Bottle Type | (Bottle Diameter)Φ50-Φ100mm (Height)150-320mm (Volume)250-2000ml |
| Applicable Cap Shape | Plastic Screw Cap |
| Gas Source Pressure (Mpa) | 0.6 |
| Gas Consumption (m3/min) | 0.25 |
| Total Power (kw) | 4.8 |
| | |
| --- | --- |
| Model | JND 18-18-6D |
| Production Capacity (BPH) (500ml) | 4000-6000 |
| Filling Pressure (Mpa) | ≤0.4 |
| Applicable Bottle Type | (Bottle Diameter)Φ50-Φ100mm (Height)150-320mm (Volume)250-2000ml |
| Applicable Cap Shape | Plastic Screw Cap |
| Gas Source Pressure (Mpa) | 0.6 |
| Gas Consumption (m3/min) | 0.3 |
| Total Power (kw) | 5.03 |
| | |
| --- | --- |
| Model | JND 24-24-6D |
| Production Capacity (BPH) (500ml) | 6000-8000 |
| Filling Pressure (Mpa) | ≤0.4 |
| Applicable Bottle Type | (Bottle Diameter)Φ50-Φ100mm (Height)150-320mm (Volume)250-2000ml |
| Applicable Cap Shape | Plastic Screw Cap |
| Gas Source Pressure (Mpa) | 0.6 |
| Gas Consumption (m3/min) | 0.4 |
| Total Power (kw) | 6.4 |
| | |
| --- | --- |
| Model | JND 32-32-8D |
| Production Capacity (BPH) (500ml) | 9000-11000 |
| Filling Pressure (Mpa) | ≤0.4 |
| Applicable Bottle Type | (Bottle Diameter)Φ50-Φ100mm (Height)150-320mm (Volume)250-2000ml |
| Applicable Cap Shape | Plastic Screw Cap |
| Gas Source Pressure (Mpa) | 0.6 |
| Gas Consumption (m3/min) | 0.5 |
| Total Power (kw) | 8.07 |
| | |
| --- | --- |
| Model | JND 40-40-10D |
| Production Capacity (BPH) (500ml) | 12000-14000 |
| Filling Pressure (Mpa) | ≤0.4 |
| Applicable Bottle Type | (Bottle Diameter)Φ50-Φ100mm (Height)150-320mm (Volume)250-2000ml |
| Applicable Cap Shape | Plastic Screw Cap |
| Gas Source Pressure (Mpa) | 0.6 |
| Gas Consumption (m3/min) | 0.55 |
| Total Power (kw) | 9.56 |
| | |
| --- | --- |
| Model | JND 50-50-15D |
| Production Capacity (BPH) (500ml) | 16000-18000 |
| Filling Pressure (Mpa) | ≤0.4 |
| Applicable Bottle Type | (Bottle Diameter)Φ50-Φ100mm(Height)150-320mm (Volume)250-2000ml |
| Applicable Cap Shape | Plastic Screw Cap |
| Gas Source Pressure (Mpa) | 0.6 |
| Gas Consumption (m3/min) | 0.6 |
| Total Power (kw) | 11.18 |
| | |
| --- | --- |
| Model | JND 60-60-15D |
| Production Capacity (BPH) (500ml) | 20000-24000 |
| Filling Pressure (Mpa) | ≤0.4 |
| Applicable Bottle Type | (Bottle Diameter)Φ50-Φ100mm(Height)150-320mm (Volume)250-2000ml |
| Applicable Cap Shape | Plastic Screw Cap |
| Gas Source Pressure (Mpa) | 0.6 |
| Gas Consumption (m3/min) | 0.7 |
| Total Power (kw) | 15 |
| | |
| --- | --- |
| Model | JND72-72-15D |
| Production Capacity (BPH) (500ml) | 28000-30000 |
| Filling Pressure (Mpa) | ≤0.4 |
| Applicable Bottle Type | (Bottle Diameter)Φ50-Φ100mm(Height)150-320mm (Volume)250-2000ml |
| Applicable Cap Shape | Plastic Screw Cap |
| Gas Source Pressure (Mpa) | 0.6 |
| Gas Consumption (m3/min) | 0.8 |
| Total Power (kw) | 18 |
| | |
| --- | --- |
| Model | JND 80-80-20D |
| Production Capacity (BPH) (500ml) | 34000-36000 |
| Filling Pressure (Mpa) | ≤0.4 |
| Applicable Bottle Type | (Bottle Diameter)Φ50-Φ100mm(Height)150-320mm (Volume)250-2000ml |
| Applicable Cap Shape | Plastic Screw Cap |
| Gas Source Pressure (Mpa) | 0.6 |
| Gas Consumption (m3/min) | 1.0 |
| Total Power (kw) | 22 |