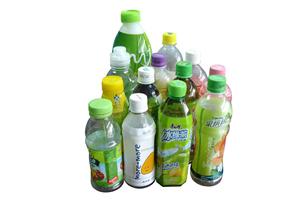 Applications of Hot Drink Filling Machines
1. Integrated the functions of bottler washer, bottle filler and bottle capper.
2. The bottle filling equipment is mainly used for bottle packing of fruit juice, tea drink, etc..
Bottled purified water filling and minerals water filling are also applicable.
3. Hot drink filling machine is applicable for both plastic bottles and glass bottles.
Features of Hot Drink Filling Machines
1. Bottle-neck clamping device and bottle suspending design enable a stable filling under high-speed moving conditions;
The need for filling different types of bottles can be realized easily by changing a few parts.
2. Stainless cap clips will not contact the area above the bottle's screw thread. And the equipped nozzles in clips wash the interior of the bottle thoroughly.
3. The advanced micro negative-pressure filing technology used in this hot drink filling machine makes the filling quickly, steady and accurate.
4. Fully enclosed beverage-holding tank; and temperature-control device and CIP washing interface are equipped.
5. The machine can meet all the technical requirements for hot-filling below 95¡æ.
6. RO washing device is adopted to wash bottle mouth before capping.
7. Magnetic torque is used for screw capping, which gives a free adjusting of cap screwing force and results in no damage to caps.
8. Those parts need to directly contact with water and drinks are made of high quality stainless steel.
9. High safety is guaranteed by high quality electrical components like decelerator, the motor from Mitsubishi and Omron.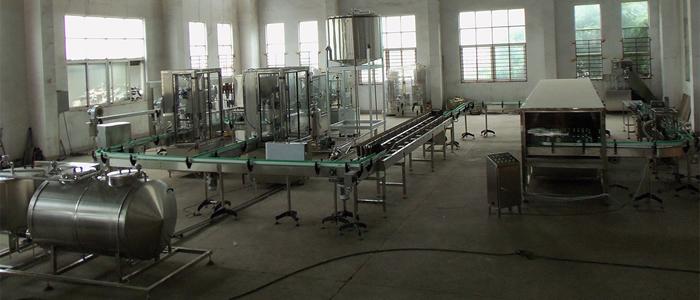 Complete bottle hot filling drinks production line
Technical parameters
| | |
| --- | --- |
| Model | JND 8-8-3R |
| Production Capacity (BPH) (500ml) | 1500-2000 |
| Filling Pressure (Mpa) | ≤0.4 |
| Applicable Bottle Type | (Bottle Diameter)Φ50-Φ100mm (Height)150-320mm (Volume)250-2000ml |
| Applicable Cap Shape | Plastic Screw Cap |
| Gas Source Pressure (Mpa) | 0.6 |
| Gas Consumption (m3/min) | 0.2 |
| Total Power (kw) | 4.0 |
| | |
| --- | --- |
| Model | JND 16-12-6R |
| Production Capacity (BPH) (500ml) | 3000-4000 |
| Filling Pressure (Mpa) | ≤0.4 |
| Applicable Bottle Type | (Bottle Diameter)Φ50-Φ100mm (Height)150-320mm (Volume)250-2000ml |
| Applicable Cap Shape | Plastic Screw Cap |
| Gas Source Pressure (Mpa) | 0.6 |
| Gas Consumption (m3/min) | 0.25 |
| Total Power (kw) | 4.8 |
| | |
| --- | --- |
| Model | JND 18-18-6R |
| Production Capacity (BPH) (500ml) | 4000-5000 |
| Filling Pressure (Mpa) | ≤0.4 |
| Applicable Bottle Type | (Bottle Diameter)Φ50-Φ100mm (Height)150-320mm (Volume)250-2000ml |
| Applicable Cap Shape | Plastic Screw Cap |
| Gas Source Pressure (Mpa) | 0.6 |
| Gas Consumption (m3/min) | 0.3 |
| Total Power (kw) | 5.03 |
| | |
| --- | --- |
| Model | JND 24-24-6R |
| Production Capacity (BPH) (500ml) | 6000-8000 |
| Filling Pressure (Mpa) | ≤0.4 |
| Applicable Bottle Type | (Bottle Diameter)Φ50-Φ100mm (Height)150-320mm (Volume)250-2000ml |
| Applicable Cap Shape | Plastic Screw Cap |
| Gas Source Pressure (Mpa) | 0.6 |
| Gas Consumption (m3/min) | 0.4 |
| Total Power (kw) | 6.4 |
| | |
| --- | --- |
| Model | JND 32-32-8R |
| Production Capacity (BPH) (500ml) | 9000-11000 |
| Filling Pressure (Mpa) | ≤0.4 |
| Applicable Bottle Type | (Bottle Diameter)Φ50-Φ100mm (Height)150-320mm (Volume)250-2000ml |
| Applicable Cap Shape | Plastic Screw Cap |
| Gas Source Pressure (Mpa) | 0.6 |
| Gas Consumption (m3/min) | 0.5 |
| Total Power (kw) | 8.07 |
| | |
| --- | --- |
| Model | JND 40-40-10R |
| Production Capacity (BPH) (500ml) | 12000-14000 |
| Filling Pressure (Mpa) | ≤0.4 |
| Applicable Bottle Type | (Bottle Diameter)Φ50-Φ100mm (Height)150-320mm (Volume)250-2000ml |
| Applicable Cap Shape | Plastic Screw Cap |
| Gas Source Pressure (Mpa) | 0.6 |
| Gas Consumption (m3/min) | 0.55 |
| Total Power (kw) | 9.56 |
| | |
| --- | --- |
| Model | JND 50-50-15R |
| Production Capacity (BPH) (500ml) | 16000-18000 |
| Filling Pressure (Mpa) | ≤0.4 |
| Applicable Bottle Type | (Bottle Diameter)Φ50-Φ100mm(Height)150-320mm (Volume)250-2000ml |
| Applicable Cap Shape | Plastic Screw Cap |
| Gas Source Pressure (Mpa) | 0.6 |
| Gas Consumption (m3/min) | 0.6 |
| Total Power (kw) | 11.18 |
| | |
| --- | --- |
| Model | JND 60-60-15R |
| Production Capacity (BPH) (500ml) | 20000-24000 |
| Filling Pressure (Mpa) | ≤0.4 |
| Applicable Bottle Type | (Bottle Diameter)Φ50-Φ100mm(Height)150-320mm (Volume)250-2000ml |
| Applicable Cap Shape | Plastic Screw Cap |
| Gas Source Pressure (Mpa) | 0.6 |
| Gas Consumption (m3/min) | 0.7 |
| Total Power (kw) | 15 |
| | |
| --- | --- |
| Model | JND72-72-15R |
| Production Capacity (BPH) (500ml) | 28000-30000 |
| Filling Pressure (Mpa) | ≤0.4 |
| Applicable Bottle Type | (Bottle Diameter)Φ50-Φ100mm(Height)150-320mm (Volume)250-2000ml |
| Applicable Cap Shape | Plastic Screw Cap |
| Gas Source Pressure (Mpa) | 0.6 |
| Gas Consumption (m3/min) | 0.8 |
| Total Power (kw) | 18 |
| | |
| --- | --- |
| Model | JND 80-80-20R |
| Production Capacity (BPH) (500ml) | 34000-36000 |
| Filling Pressure (Mpa) | ≤0.4 |
| Applicable Bottle Type | (Bottle Diameter)Φ50-Φ100mm(Height)150-320mm (Volume)250-2000ml |
| Applicable Cap Shape | Plastic Screw Cap |
| Gas Source Pressure (Mpa) | 0.6 |
| Gas Consumption (m3/min) | 1.0 |
| Total Power (kw) | 22 |