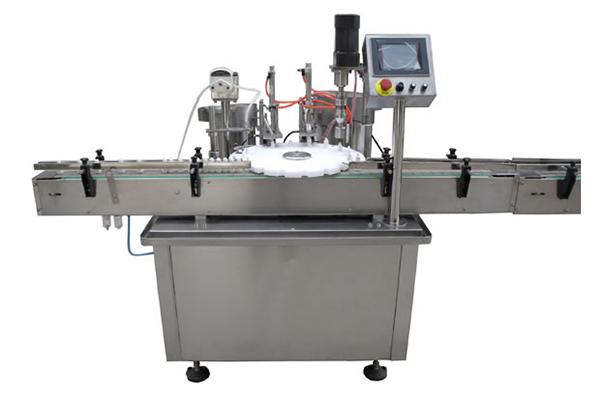 This liquid filling machine is specially built for filling what is sometimes called the E-juice into the electronic cigarette. The filling pump is made of 316L stainless steel for wear-resistance, allowing easy clean-up. Silicone O-ring and gasket are installed on the liquid filler to prevent leaks, keep out impurities and ensure accurate, pollution-free liquid filling experience.
Shortly after filling, the liquid container needs to be capped off by using a cam-driven robotic arm. During capping, the mechanical arm creates vacuums that generate a suction force that can be used to grab hold of the inner plug or outer cap to be added to the container. The cam mechanism drives the lifting or lowering motion of the arm.
Capping
A horizontal torque is imparted to the cap the moment the cap engages the container thread. As the rotation continues, the cap is tightened onto the container. A clutch that physically holds the cap is set to slip at a pre-determined torque, preventing the cap from being over tightened. Via the touch screen, operators can maintain overall control of the liquid filling machine.
Technical Specs of Liquid Filling Machine
| | |
| --- | --- |
| Output | 3000 bph |
| Bottle volume | 5-30ml |
| Filling head | 1 |
| Capping head | 1 |
| Pass rate | ≥99% |
| Power supply | 220V, 50Hz |
| Power | 2KW |
| Weight | 500KG |
| Dimension | 2000mm×1450mm×1650mm |