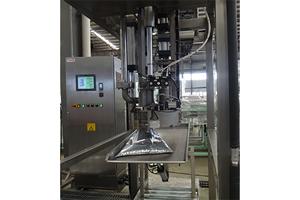 JND aseptic bag filling machine is a kind of food packaging equipment which offers effective and reliable performance in aseptic packaging of various food products. To illustrate, it is often used for aseptic filling and packaging of high and low acid foods, such as sauces, soups, tomato paste, dairy products, as well as vegetables and fruit juices, purees, particulates and concentrates.
As we know, aseptic bags usually need to be stored in containers such as drums or bins to facilitate storage and transportation. Our range of aseptic bag filling machine includes a roller conveyor for automatic delivering of containers which can be bins, drums in a single line, or 4 drums on a pallet.
How does the aseptic bag filling machine work?
1. After the aseptic filler operator places the pre-sterilized bags into the container, the container will be automatically transported to under the filling station by the conveyor.
2. The pre-sterilized bags are manually placed under the aseptic chamber under a sterilized environment that is saturated by over pressure steam.
3. The aseptic bag filling machine operator pushes the start cycle, and then the aseptic bag caps will be automatically removed. Afterwards, the bags will be filled with sterilized food products before they are recapped.
Note: This aseptic filling machine is designed with load cells for its standard measurement system. Volumetric filling system is also available.
4. At the final stage of aseptic filling cycle, the roller conveyor transports the containers to the exit.
Technical Parameters
| | |
| --- | --- |
| Model | JND-1W |
| Filling material | fruit concentrated juice/jam/paste |
| Capacity | 1000-3000kg/h |
| Applicable bag size | 1.5kg~250kg aseptic bags |
| Applicable bag spout size | 1 inch |
| Steam consumption | 200 Kg/h |
| Compressed air consumption | 0.3kg/h 6bar |
| Power | 1.5kw |
| | |
| --- | --- |
| Model | JND-2W |
| Filling material | fruit concentrated juice/jam/paste |
| Capacity | 3000-8000kg/h |
| Applicable bag size | 1.5kg~250kg aseptic bags |
| Applicable bag spout size | 1 inch |
| Steam consumption | 200 Kg/h |
| Compressed air consumption | 0.3kg/h 6bar |
| Power | 3kw |