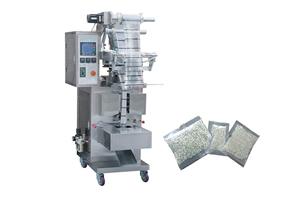 The JND-K series vertical form fill seal machine is a collection of granule packing machine designed and manufactured based on domestic and overseas advanced technologies. While offering aesthetical design, it also offers high reliability and efficiency.
The vertical form fill seal machine features an advanced photoelectric controller to make sure the printed patterns on packaging bags are complete. It also includes an automatic constant-temperature control mechanism, which provides the granule filling machine with accurate and fast speed operations.
Additionally, the vertical form fill seal machine is able to perform stepless speed adjustment, and automatically finish processes from bag making, measurement, granule filling, sealing, cutting, counting, to final date or batch number printing.
Due to high automation and high precision, this vertical form fill sealing machine can meet any of your granule packaging demands. We welcome you to choose.
Technical Parameters
| | |
| --- | --- |
| Model | JND-K100 |
| Bag length(mm) | 50-150 |
| Bag width(mm) | 25-120 |
| film width(mm) | 60-240 |
| Volume(ml) | 5-100 |
| Packing speed( bags/min) | 40-80 |
| Power(kw) | 1.6 |
| Air supply (Mpa) | 0.6 |
| Air consumption(L/min) | 100 |
| Dimension(mm) | 760*980*1800 |
| Weight(kg) | 300 |
| | |
| --- | --- |
| Model | JND-K300 |
| Bag length(mm) | 50-300 |
| Bag width(mm) | 70-190 |
| film width(mm) | 160-380 |
| Volume(ml) | 50-500 |
| Packing speed( bags/min) | 40-80 |
| Power(kw) | 1.65 |
| Air supply (Mpa) | 0.65 |
| Air consumption(L/min) | 100 |
| Dimension(mm) | 900*1120*2360 |
| Weight(kg) | 480 |
| | |
| --- | --- |
| Model | JND- K500 |
| Bag length(mm) | 100-550 |
| Bag width(mm) | 120-290 |
| film width(mm) | 260-600 |
| Volume(ml) | 250-5000 |
| Packing speed( bags/min) | 20-60 |
| Power(kw) | 3.5 |
| Air supply (Mpa) | 0.65 |
| Air consumption(L/min) | 600 |
| Dimension(mm) | 1180*1890*2460 |
| Weight(kg) | 800 |