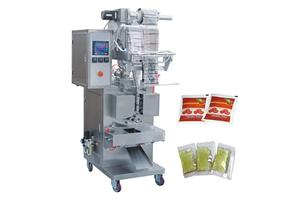 Features
The JND-S Series vertical form fill seal machine uses a computer control system to achieve a high level of automation. With this advanced computer control, different operations are easy to on the paste packaging equipment, such as bag forming, counting, filling, sealing, cutting, batch number printing, and making the tear notch, etc. Fixed displacement plunger pump comes with variable speed drive, and is used to handle viscous liquid such as shampoo which tends to drip or form thin threads during dripping. If you are looking for an end-of-line packaging solution, JND is the right manufacturer to call.
Sealing Method
The bag can be sealed on three or four sides, or to form a pillow pack.
Packaging material
Paper/PE, PET/Aluminum Foil/PE, Nylon/PE, Tea Bag Paper & etc.
Options
Ribbon hot stamping machine (with choices of colors and ink rolls).
Technical Parameters
| | |
| --- | --- |
| Model | JND-S100 |
| Capacity (Pcs/min) | 30-60 |
| Packing range (ml) | 5-100 |
| Power(kw) | 1.6 |
| Max. length of bag (mm) | 50-150 |
| Max. width of bag (mm) | 25-120 |
| Dimension (L×W×H) (mm) | 760×1380×1700 |
| Weight(kg) | 300 |
| | |
| --- | --- |
| Model | JND-S300 |
| Capacity (Pcs/min) | 30-60 |
| Packing range (ml) | 50-500 |
| Power(kw) | 1.6 |
| Max. length of bag (mm) | 50-300 |
| Max. width of bag (mm) | 70-190 |
| Dimension (L×W×H) (mm) | 900×1800×2040 |
| Weight(kg) | 480 |
| | |
| --- | --- |
| Model | JND-S500 |
| Capacity (Pcs/min) | 30-60 |
| Packing range (ml) | 200-1000 |
| Power(kw) | 1.6 |
| Max. length of bag (mm) | 80-300 |
| Max. width of bag(mm) | 90-190 |
| Dimension (L×W×H) (mm) | 900×2000×2040 |
| Weight(kg) | 500 |