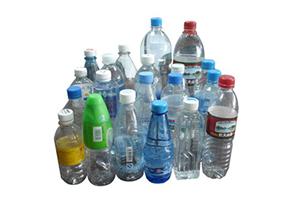 Applications of water production lines/beverage production lines
Our water production line/beverage production line is applicable for production of bottled non-carbonated drink, like mineral water and purified water, etc..
This bottled water/bottled beverage production line integrated bottle washing, filling and capping together.
Plastic bottle and glass bottle are both suitable.
Features of water production lines/beverage production lines
1. Bottle-neck clamping device and suspended bottle design guaranteed a stable bottle filling under high-speed moving conditions during the filling process.
Filling for different types of bottles can be easily realized by changing a few component parts.
2. Special stainless steel clips are adopted and these clips will not contact the area above the bottle's screw thread.
The nozzles in clips can guarantee the complete wash of the interior of the bottle.
3. Quick, stable and accurate filling for the advanced gravity filing technology.
4. Reliable capping: Magnetic torque is used for screw capping and the power for screw capping can be adjusted freely. There is no damage to bottle caps.
5. Human-machine interface touch-screens and PLC control is available.
6. Hygienic: The parts that contact with water or beverage are made of high quality stainless steel.
7. Safe: Mitsubishi, Omron electrical components are equipped in our water/beverage production lines.

Complete bottled water produce line
Technical parameters
| | |
| --- | --- |
| Model | JND 8-8-3 |
| Production Capacity (BPH) (500ml) | 2000-3000 |
| Filling Pressure (Mpa) | ≤0.4 |
| Bottle Dimension | (Bottle Diameter)Φ50-Φ100mm (Height)150-320mm (Volume)250-2000ml |
| Cap Shape | Plastic Screw Cap |
| Gas Source Pressure (Mpa) | 0.6 |
| Gas Consumption (m3/min) | 0.2 |
| Total Power (kw) | 4.0 |
| | |
| --- | --- |
| Model | JND 16-12-6 |
| Production Capacity (BPH) (500ml) | 4000-5000 |
| Filling Pressure (Mpa) | ≤0.4 |
| Bottle Dimension | (Bottle Diameter)Φ50-Φ100mm (Height)150-320mm (Volume)250-2000ml |
| Cap Shape | Plastic Screw Cap |
| Gas Source Pressure (Mpa) | 0.6 |
| Gas Consumption (m3/min) | 0.25 |
| Total Power (kw) | 4.8 |
| | |
| --- | --- |
| Model | JND 18-18-6 |
| Production Capacity (BPH) (500ml) | 6000-8000 |
| Filling Pressure (Mpa) | ≤0.4 |
| Bottle Dimension | (Bottle Diameter)Φ50-Φ100mm (Height)150-320mm (Volume)250-2000ml |
| Cap Shape | Plastic Screw Cap |
| Gas Source Pressure (Mpa) | 0.6 |
| Gas Consumption (m3/min) | 0.3 |
| Total Power (kw) | 5.03 |
| | |
| --- | --- |
| Model | JND 24-24-6 |
| Production Capacity (BPH) (500ml) | 10000-12000 |
| Filling Pressure (Mpa) | ≤0.4 |
| Bottle Dimension | (Bottle Diameter)Φ50-Φ100mm (Height)150-320mm (Volume)250-2000ml |
| Cap Shape | Plastic Screw Cap |
| Gas Source Pressure (Mpa) | 0.6 |
| Gas Consumption (m3/min) | 0.4 |
| Total Power (kw) | 6.4 |
| | |
| --- | --- |
| Model | JND 32-32-8 |
| Production Capacity (BPH) (500ml) | 13000-15000 |
| Filling Pressure (Mpa) | ≤0.4 |
| Bottle Dimension | (Bottle Diameter)Φ50-Φ100mm (Height)150-320mm (Volume)250-2000ml |
| Cap Shape | Plastic Screw Cap |
| Gas Source Pressure (Mpa) | 0.6 |
| Gas Consumption (m3/min) | 0.5 |
| Total Power (kw) | 8.07 |
| | |
| --- | --- |
| Model | JND 40-40-10 |
| Production Capacity (BPH) (500ml) | 18000-20000 |
| Filling Pressure (Mpa) | ≤0.4 |
| Bottle Dimension | (Bottle Diameter)Φ50-Φ100mm (Height)150-320mm (Volume)250-2000ml |
| Cap Shape | Plastic Screw Cap |
| Gas Source Pressure (Mpa) | 0.6 |
| Gas Consumption (m3/min) | 0.55 |
| Total Power (kw) | 9.56 |
| | |
| --- | --- |
| Model | JND 50-50-15 |
| Production Capacity (BPH) (500ml) | 21000-22000 |
| Filling Pressure (Mpa) | ≤0.4 |
| Bottle Dimension | (Bottle Diameter)Φ50-Φ100mm(Height)150-320mm (Volume)250-2000ml |
| Cap Shape | Plastic Screw Cap |
| Gas Source Pressure (Mpa) | 0.6 |
| Gas Consumption (m3/min) | 0.6 |
| Total Power (kw) | 11.18 |
| | |
| --- | --- |
| Model | JND 60-60-15 |
| Production Capacity (BPH) (500ml) | 24000-25000 |
| Filling Pressure (Mpa) | ≤0.4 |
| Bottle Type | (Bottle Diameter)Φ50-Φ100mm (Height)150-320mm (Volume)250-2000ml |
| Cap Shape | Plastic Screw Cap |
| Gas Source Pressure (Mpa) | 0.6 |
| Gas Consumption (m3/min) | 0.7 |
| Total Power (kw) | 15 |
| | |
| --- | --- |
| Model | JND72-72-15 |
| Production Capacity (BPH) (500ml) | 32000-35000 |
| Filling Pressure (Mpa) | ≤0.4 |
| Bottle Dimension | (Bottle Diameter)Φ50-Φ100mm(Height)150-320mm (Volume)250-2000ml |
| Cap Shape | Plastic Screw Cap |
| Gas Source Pressure (Mpa) | 0.6 |
| Gas Consumption (m3/min) | 0.8 |
| Total Power (kw) | 18 |
| | |
| --- | --- |
| Model | JND 80-80-20 |
| Production Capacity (BPH) (500ml) | 40000-42000 |
| Filling Pressure (Mpa) | ≤0.4 |
| Bottle Dimension | (Bottle Diameter)Φ50-Φ100mm(Height)150-320mm (Volume)250-2000ml |
| Cap Shape | Plastic Screw Cap |
| Gas Source Pressure (Mpa) | 0.6 |
| Gas Consumption (m3/min) | 1.0 |
| Total Power (kw) | 22 |