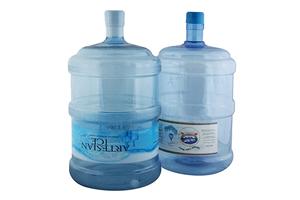 Application
1. 5 gallon water filling machine is specially designed to fill purified water, distilled water, mineral water and other bacteria free liquids.
2. The equipment is applied with 5 GAL bottle (1 GAL, 2 GAL, 3 GAL, 4 GAL, 6GAL are also applied).
3. As the 5 gallon water filling machine integrates bottle washing, filling, lid mounting, lid pressing and finished product delivering together, it's a good choice of water plants.
For operations, the water filling machine can be configured with the following machines: the bottle lid pre-heater, auto decapper, empty bottle leakage detector, bottle external-washing machine, bottle exterior-washing machine, bottle auto loading machine, thermal shrinkage film machine ,lamp inspection equipment ,and other equipment.
It features the integration of advanced technology and working principle, high level of automation and easy operation.
Functions and features
1. Automatic break protection in case of power leakage and short circuit;
2. Under-pressure protection: when incoming air's pressure is ≦0.5MPa, the equipment will be automatically stopped;
3. Water-shortage protection: when the level of the water tank is lower than that of the liquid switch, the equipment will be automatically stopped.
Remarks: We can add other functions as customer's requirements preference: hot tank heating washing, bottle external washing, cap washing, capacity note and man-machine control.
Technical parameters
| | |
| --- | --- |
| Model | JND100 |
| Output( BPH) | 60 |
| Voltage | AC220V/380V±5% 50HZ/60HZ |
| Rated Power(kw) | 2 |
| Bottle size | 18.9 L(5 gallon) |
| Bottle size(mm) | Ф270×490×Ф56 |
| Cap size(mm) | Ф58×40 (Tail: L×W=18×7.5) |
| Air pressure(Mpa) | 0.5~0.6 |
| N.W.(KG) | 195 |
| Overall Dimension(MM) | 2710*500*1600 |
| | |
| --- | --- |
| Model | JND100 |
| Output( BPH) | 120 |
| Voltage | AC220V/380V±5% 50HZ/60HZ |
| Rated Power(kw) | 4.95 |
| Bottle size | 18.9 L(5 gallon) |
| Bottle size(mm) | Ф270×490×Ф56 |
| Cap size(mm) | Ф58×40 (Tail: L×W=18×7.5) |
| Air pressure(Mpa) | 0.5~0.6 |
| N.W.(KG) | 300 |
| Overall Dimension(MM) | 3245*500*1600 |
| | |
| --- | --- |
| Model | JND100 |
| Output( BPH) | 200 |
| Voltage | AC220V/380V±5% 50HZ/60HZ |
| Rated Power(kw) | 7.16 |
| Bottle size | 18.9 L(5 gallon) |
| Bottle size(mm) | Ф270×490×Ф56 |
| Cap size(mm) | Ф58×40 (Tail: L×W=18×7.5) |
| Air pressure(Mpa) | 0.5~0.6 |
| N.W.(KG) | 395 |
| Overall Dimension(MM) | 2820*800*1600 |
| | |
| --- | --- |
| Model | JND100 |
| Output( BPH) | 300 |
| Voltage | AC220V/380V±5% 50HZ/60HZ |
| Rated Power(kw) | 8.65 |
| Bottle size | 18.9 L(5 gallon) |
| Bottle size(mm) | Ф270×490×Ф56 |
| Cap size(mm) | Ф58×40 (Tail: L×W=18×7.5) |
| Air pressure(Mpa) | 0.5~0.6 |
| N.W.(KG) | 445 |
| Overall Dimension(MM) | 3820*800*1600 |
Model
JND100
Output( BPH)
450
Voltage
AC220V/380V±5% 50HZ/60HZ
Rated Power(kw)
19.1
Bottle size
18.9 L(5 gallon)
Bottle size(mm)
Ф270×490×Ф56
Cap size(mm)
Ф58×40 (Tail: L×W=18×7.5)
Air pressure(Mpa)
0.5~0.6
N.W.(KG)
950
Overall Dimension(MM)
4390*1100*1760
3000*800*1760
Model
JND100
Output( BPH)
600
Voltage
AC220V/380V±5% 50HZ/60HZ
Rated Power(kw)
24.8
Bottle size
18.9 L(5 gallon)
Bottle size(mm)
Ф270×490×Ф56
Cap size(mm)
Ф58×40 (Tail: L×W=18×7.5)
Air pressure(Mpa)
0.5~0.6
N.W.(KG)
1450
Overall Dimension(MM)
4710*1520*1760
3220*800*1760
Model
JND100
Output( BPH)
900
Voltage
AC220V/380V±5% 50HZ/60HZ
Rated Power(kw)
36
Bottle size
18.9 L(5 gallon)
Bottle size(mm)
Ф270×490×Ф56
Cap size(mm)
Ф58×40 (Tail: L×W=18×7.5)
Air pressure(Mpa)
0.5~0.6
N.W.(KG)
2000
Overall Dimension(MM)
5100*1850*1760
3880*800*1760
Model
JND100
Output( BPH)
1200
Voltage
AC220V/380V±5% 50HZ/60HZ
Rated Power(kw)
46
Bottle size
18.9 L(5 gallon)
Bottle size(mm)
Ф270×490×Ф56
Cap size(mm)
Ф58×40 (Tail: L×W=18×7.5)
Air pressure(Mpa)
0.5~0.6
N.W.(KG)
2600
Overall Dimension(MM)
6200*2060*2300
2000*1900*2500
Video Show